Energy System Solutions
Our Energy System Solutions provide comprehensive support for efficient operation in energy supply area. The solutions are tailored to customers' needs and cover the following levels:
Field Level Solutions,
with appropriate meters, energy quality devices and communication solutions;
Metering Central Systems,
from small up to very large scale and hierarchical systems;
Management Systems,
software applications able to support the management of the energy supply activity.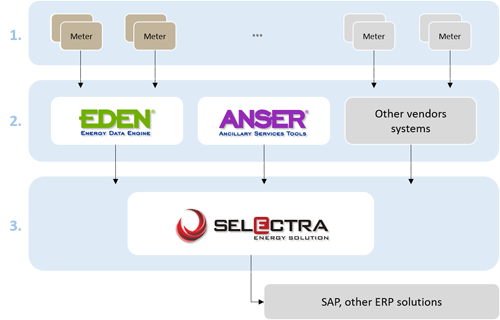 Energy System Solution at ALPIQ RomEnergie
Selectra Energy Solution provides a flexible and comprehensive platform for optimizing the energy supply business of our client.
Client's benefits include:
Optimization of the acquisition and client portfolios;
Efficient management of the operational and financial risks;
In-time and extensive information to support decisional processes of both ALPIQ and its clients;
High flexibility in integrating market requirements and future changes;
Maximization of the return on investment.